How to stay grounded while traveling (and life-ing)
Aug 03, 2023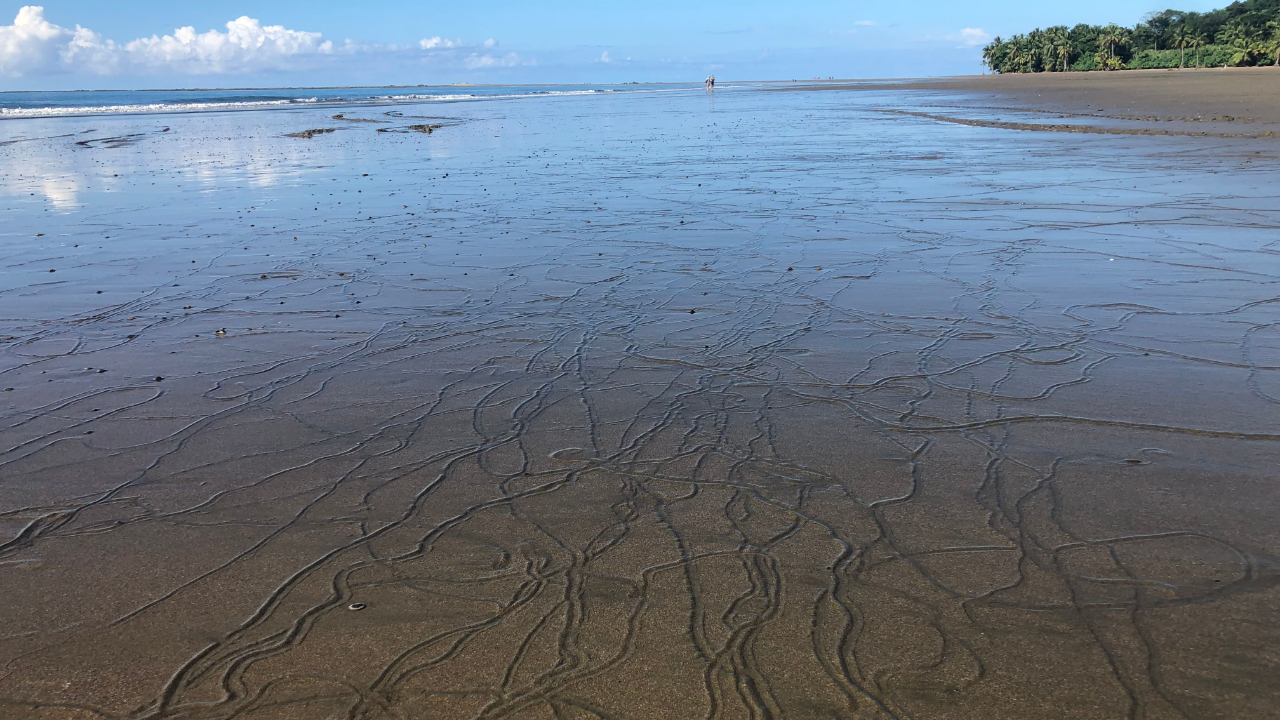 image of the trails of sea snails at Marino Ballena National Park, Costa Rica
August is a travel month for many. In Europe, it's the holiday month. In my town of Evanston (and I'm sure elsewhere), enough families get away before school starts back up in September, which is why I started to take time off in August; because many of my clients were away during this time. Even without kids, people get away to soak in as much of summer as they can before stepping into a new fall rhythm.
As I write this, I'm getting ready for my two weeks in Peru to do the Lima-Cusco-Machu Picchu excursion. As an empty nester, this is my first two-week trip in a long, long time. No idea as of yet how I'm going to pack for this trip where altitudes and temperatures range widely and where we don't stay in one place for more than two days.
The month leading up to this trip, my brother and his family were in town for a full month (their annual tradition), and I spent as much time with them as I could. Big milestones happened around me: summer birthday celebrations, new home purchases, a new baby, a wedding (never just one event), and my elderly parents needing assistance. Each commanding time carved into my "normal day" to celebrate, bear witness, and offer support. Which means, not only is travel a "disruption" to my normal life, threatening the good habits that support my wellness, the entire summer is. And we wouldn't have it any other way, right? This is life.
Still, it's nice to stay centered and grounded.
Grounding happens before, during, and after travel.
To feel grounded means to feel a sense of safety and familiarity as you prepare to fly or endeavor into the unknown. It means to take the time to remember who you are, what's important to you, and what you want to experience in your day and life. This connection helps you stretch beyond your limits without losing your sense of self and feeling chaotic or discombobulated.
Of course, and you won't be surprised to hear me say this, meditation is an excellent grounding tool. And so is any wellness practice you do on a daily basis. Instead of dropping your rituals because you're on vacation, take them with you. They're portable and take up no space in your suitcase.
Examples of daily habits you can travel with:
Meditation: sit still and feel into your body and the space around you. This is a practice in being, where you're not thinking about producing or achieving anything. Just simply carving out sacred time to look in and connect with unconditionality. You can focus on your breath, the sound of nature, or a mantra.

Your daily walk, workout, or yoga practice: you can shrink the time of your practice to make it more doable, but to show up for it will anchor you; it sets you into your body, strengthens your nervous system, and connects you to

home

.

Three to 5 minutes of journaling: this helps you tap into your sense of self and integrate, reframe, and enrich all of the experiences you're having.

Remember to breathe consciously often while you explore. It will help you stay in your body and on the ground as well as keep you in your parasympathetic nervous system (which turns on your ability to relax and digest - something we can definitely use while traveling).

Stay hydrated and well-rested. Sounds boring, you're on vacation, but you'll have more fun and have more stamina if you do.

Have some form of consistent bedtime routine as close to the one you have at home. Your inner child needs this more than you think to be well.
Hopefully you've been making these (or similar) practices a regular part of your daily wellness ritual, making them easy to drop into rather than drop. If you haven't been, a change of location can also make it easier to create new habits. And then you can bring it back home with you, like a souvenir, the most valuable one.
The routines I bring to my travels:
I wake up close to the time I normally do at home and begin with meditation in bed or outside in nature. I'm often tempted to sleep in (it

always

sounds good in theory) but when I do, it doesn't prove to make my trip experience any better. In fact, just like at home, my morning routine dramatically improves my day, so I keep my wake up routine close to what it is at home, just shorter.

Whenever I can, and sometimes I have to go out of my way to do this, I make sure to fill my insulated thermos with hot water to drink upon waking (as I do at home), and say "thank you for my life" before my first sip. I find this incredibly, and always surprisingly, grounding.

I read, even if just for 10 minutes.

I join my partner's morning ritual of walking 6 miles a day (if we're not hiking that day). He's already started by now; I join him for the last two.

Hilariously (to us anyway), we both bring our daily Duolingo practice on our travels with us. We support each other in keeping this up and stop to take 15 minutes a day

para practicar un poco de español.

He continues to look at the markets, and I check in with community, a MUCH reduced version of our work at home. This part is not necessarily an example of anything I'm encouraging; it's just a part of who he and I are; it's a joy for us to stay somewhat plugged in, and it helps us transition better, so I wanted to share this with you.

We indulge wherever we can, including breaking our usual diet to eat what the locals eat and at the same time making sure our body is functioning the way we want it to. It's not fun to suffer from indigestion when you're planning to hike that amazing trail to the waterfall or dine at that restaurant that everyone said to go to while you're there, so it's a balance we're both fully aware of. I can't tell you how many times we had to find a local grocery store because Larry wanted to have his pint of blueberries in the morning. I love that.
When we take our self-care rituals with us, our internal clocks and habits more easily come back to routine when we return home. My calendar is already pre-set from before the trip to ease back into my most valued activities first when I get back, and to know what incidentals need my attention next. I can't tell you how often I return home late tempted to sleep in in the morning. Instead, I get up for my usual routine (shortened if necessary) and take a nap later, which I make sure I've made space for ahead of time. I've found this approach to be less jarring to my nervous system and a more effective way to ease back into the momentum I desire to get back to when I return.
Love, Savitree